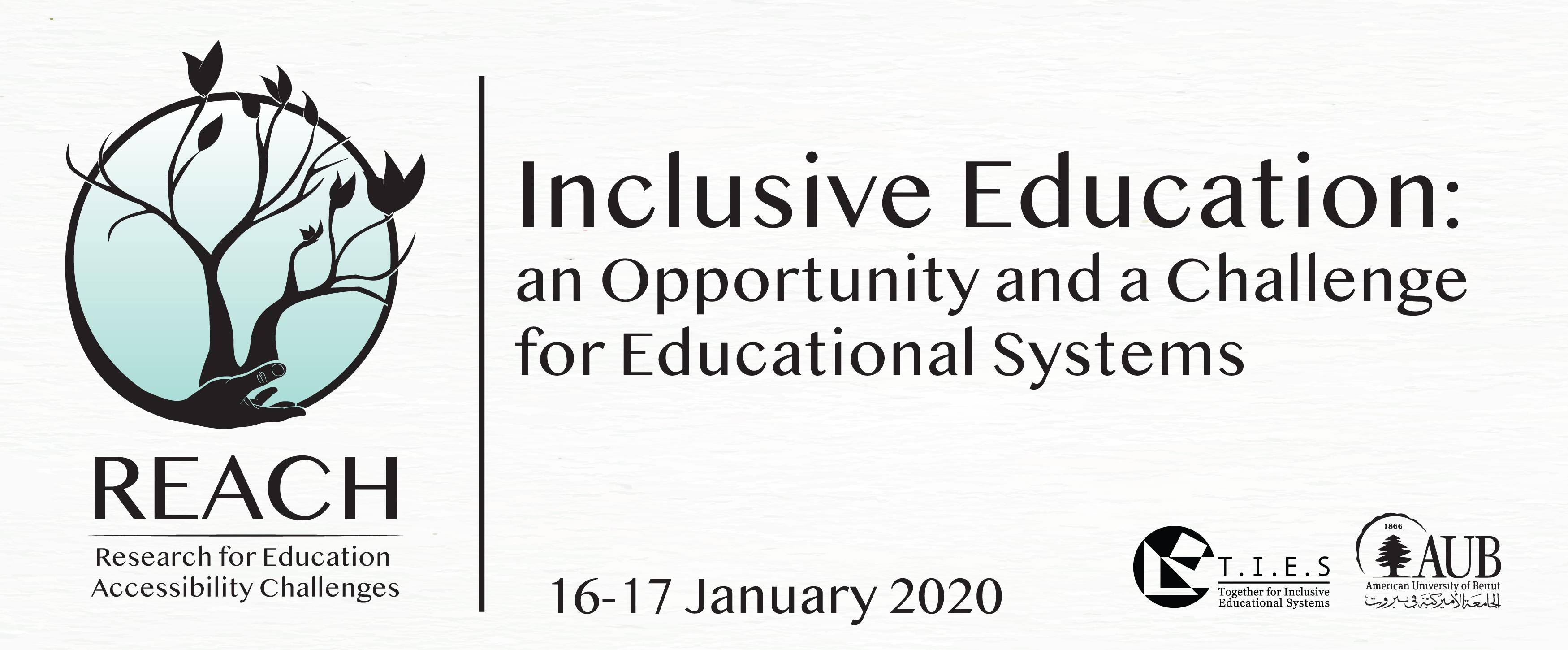 Call for paper
The first edition of the international conference REACH organized by T.I.E.S in partnership with AUB will be held on January 16-17, 2020 at the American University of Beirut. This conference invites researchers and practitioners to reflect broadly on the opportunities and challenges associated with the implementation of inclusive education within educational systems.


Context
Following the World Declaration on Education for All (UNESCO, 1990), the Salamanca Declaration and Framework for Action on Education and Special Needs (UNESCO, 1994) states that "the school should accommodate all children, regardless of their particular physical, intellectual, social, emotional, linguistic or other characteristics. It should include both "handicapped" and gifted children, street children and working children, children from isolated or nomadic populations, those from linguistic, ethnic or cultural minorities and children from other disadvantaged or marginalized groups. (Article 3) ". However, the priority areas for action are limited to "the integration of children and young people with special educational needs" (Article 52).
These principles postulate that any definition of inclusion should emphasize that it is about considering all learners and not just responding to the diversity or needs of one child at the expense of another (UNESCO, 2005). This conception of inclusive education still seems to be difficult to accept or to materialize in many countries.
Different concepts are related to inclusive education and seem necessary for its operationalization (special educational needs, equity, inclusive school, accessibility, compensation, diversity, standardization and denormalization,...) and their understanding depends strongly on the context in which they are embedded. The lack of a common definition is a source of misunderstanding, as education stakeholders often agree on a background of disagreement.
This drift observed in many education systems in the name of inclusive schooling leads us to ask the question: "What are the conditions of inclusive schools and practices? Therefore, this international conference is designed as an opportunity to discuss the conceptual, political, social, structural and practical dimensions of inclusive education. It is intended for researchers, representatives of the ministries concerned (Ministry of Education, Ministry of Social Affairs, Ministry of Health, etc.), school professionals (principals, teachers, etc.), socio-medical professionals (psychologists, speech therapists, etc.), trainers, and academics, as well as stakeholders from associations involved in programs related to inclusive education.
The conference will be a platform for conceptualization, knowledge production and advice for the development of future research and practice to enhance inclusive education.
Thematic fields
Within the framework of this conference, four thematic fields are selected in relation to the four dimensions of inclusive education that are closely linked in a hierarchical relationship. They are based on the recent Guide to Inclusion and Equity in Education (UNESCO, 2017):
Concepts: as noted above, the concepts related to inclusive education still need to be recalled. This conference seeks to clarify what inclusive education is and how technology is helping in bridging gaps. At the end of this conference, the definition of inclusive education will be adopted in consideration of specific regional context.
Policy Declarations: legislation is an essential part of the development of a more inclusive and equitable education system. Policy determines how the forms of education offered are organized, the learning environment is envisioned, and how learners' progress is supported and assessed. Therefore, it not only raises the question of the prescriptions, but also of the practical applications and implications, to understand how they limit, or promote, the emergence and sustainability of inclusive and equitable schools.
Structures and systems: In order to give concrete expression to the principles of equity and inclusion arising from education policy, it becomes necessary to act at the level of the organization of education systems. It is also essential to involve other sectors, such as health, social protection and child protection services, to explore how the articulation between these administrative and institutional systems contributes to or impedes the development of inclusive and equitable education.
Practices: many factors can either facilitate or hinder the adoption of inclusive and equitable practices in education systems. These factors include the training of teachers and other stakeholders, their skills, deployment of online learning, attitudes and pedagogical strategies, the forms of support and collaboration on which they can rely, and the pedagogical infrastructure and strategies, new technologies such as the Internet, social media, assistive technologies and robots. What impacts do these changes have on inclusive education? Therefore, it is a matter of questioning practices and proposing any changes that may be necessary.
       Technology: Accessible Technology plays an important role in inclusive education. What adaptations of systems and technology are required? What is the role of technology to ensure that a fully inclusive educational environment is realized. The focus on technology allows to explore the interrelationships between the various themes of the conference.

Conference objectives
The aim of this conference is to:
clarify basic concepts and principles related to inclusive education;
question the relevance of the concepts to local realities, and enrich or adapt this conceptual field accordingly;
analyze the legal and regulatory framework related to inclusive education in order to propose adaptations or modifications;
identify the issues and challenges of the transition from segregated to inclusive education;
define the role of technology in inclusive education;
develop priorities for inclusive practice;
collect data related to the reality and needs of education stakeholders.