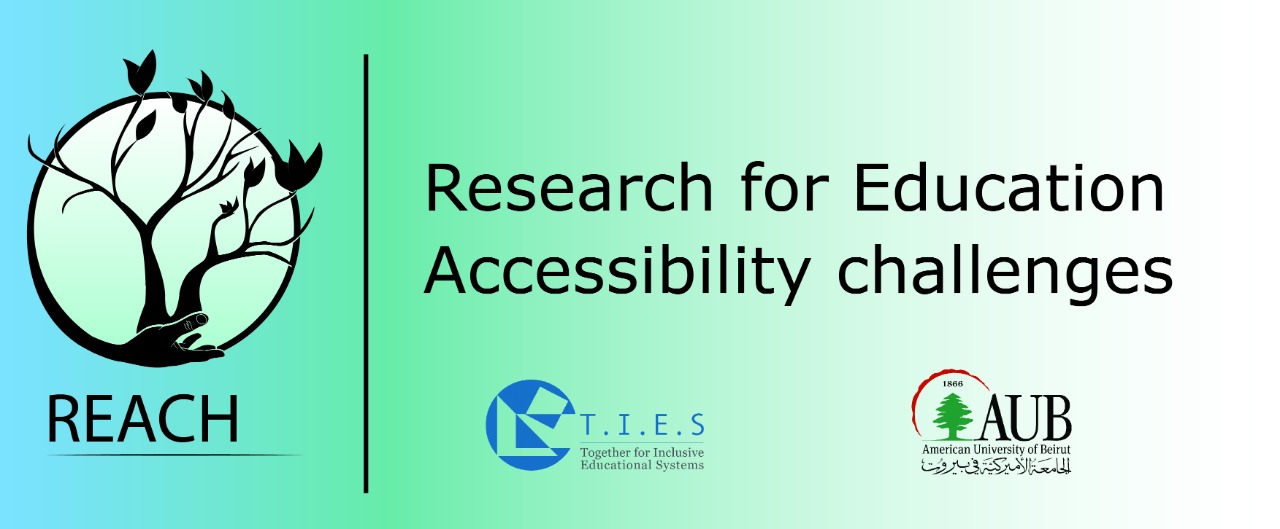 REACH 2022
The second edition of the international conference REACH organized by T.I.E.S in partnership with AUB was held on May 19-20, 2022, via Zoom. The conference was intended for teachers, professionals (special educators, occupational therapists, speech therapists, psychologists, educational counselors, etc.), policy makers, advocates, members of parents committees and researchers, as well as associations that work with vulnerable and marginalized children.
This conference was an opportunity to reflect on this upheaval of practices imposed by the pandemic, and to think about new forms of support, to propose innovative practices, and adapted strategies taking into account the needs of all students, favoring the construction of resilient educational systems in the service of an equitable and sustainable development.
Context
The COVID-19 pandemic has disturbed the education systems in a way that is historically unprecedented causing the greatest disruption not only to education systems, but also to the lives of nearly 1.6 billion students in more than 190 countries over all the continents. Closure of schools and other learning spaces  affected 94% of the world's school-going population, and up to 99% in low- and lower-middle-income countries (United Nations, 2020). These lockdowns created unique challenges for education systems around the world.
According to the United Nations (2020), the existing educational inequity crisis has worsened, with many of the most vulnerable children, youth and adults (those living in poor or rural areas, girls, refugees, persons with disabilities, and forcibly displaced persons) being at risk of not returning to  the school.  Additionally, the most vulnerable students often lack the digital skills, devices, computers, and internet access required, and have no means of following the distance learning that was put in place when schools closed. The pandemic has highlighted the huge inequalities in access to quality education that the most vulnerable children were already facing. This global health crisis threatens to significantly slow progress toward  attaining the Sustainable Development Goals, particularly Sustainable Development Goal 4 ("Achieve inclusive and equitable quality education and promote lifelong learning opportunities for all"). It is also likely to exacerbate the global learning crisis and educational inequalities, as its effects will impact mainly the poorest (Teacher Task Force, 2020).
At the same time, the crisis stimulated innovation in the education sector. We have seen the emergence of innovative initiatives that have allowed for the continuation of teaching and training activities - on radio, on television or in the form of take-home educational kits .
Thematic fields
Within the framework of this conference, four thematic fields are selected:
1- Inclusive education in the digital age
2- Inclusive Education for marginalized and vulnerable
3- Distance learning and the challenges of making teacher-student connections
4- Distance Learning and the Family in Times of Confinement
Objectives
Address vulnerable and marginalized students' needs in times of crisis;

Identify the issues, challenges and barriers of e-learning;

Identify strategies for more accessible e-learning for all and specifically for vulnerable and marginalized children;

Present digital solutions that support learning for vulnerable and marginalized children;

Elaborate key elements for creating an accessible learning environment;

Discuss ways to counter all forms of discrimination;

Suggest remedies for structural discrimination (lack of access to computer tools, Internet connections or family barriers).
Our partners
T.I.E.S (Together for Inclusive Educational Systems) NGO,
American University of Beirut - AUB